Daily Situation on the Front Line: Ukraine ~ 20 April 2021
The representative office of the Donetsk People's Republic in the Joint Center for Control and Coordination of the Ceasefire Regime (JCCC) reported that in the past 24 hours they violated the ceasefire on the line of contact with the DPR.
"Under the fire of the Ukrainian army in the Gorlovka direction was the area of ​​the village of the mine named after Gagarin, and in the Donetsk – the vicinity of the Volvo Center, the villages of Spartak and Yakovlevka, the village of Aleksandrovka. The enemy used 82 and 120 mm mortars, various types of grenade launchers, small arms, including heavy machine guns, "the ministry said.
In violation of the third point of additional measures, the deployment of four units with weapons and military equipment of the VFU near residential buildings and municipal facilities in the territory controlled by Ukraine was revealed.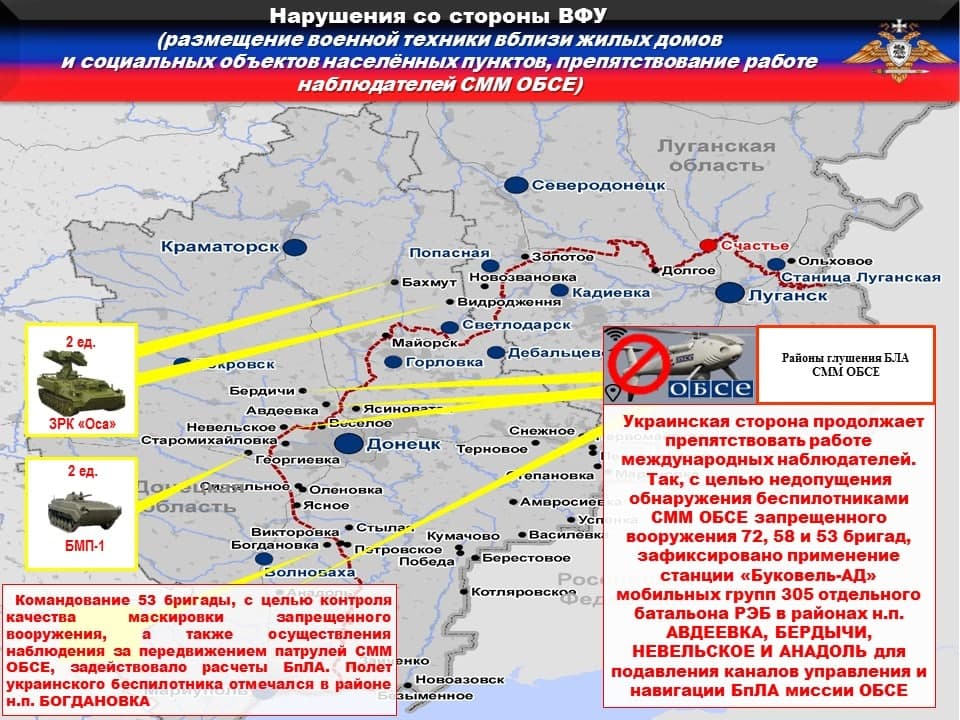 On the eve of the fire of the Armed Forces of Ukraine in Gorlovka, a residential building and outbuildings were damaged, as well as eight transformer substations were de-energized.
---
---
Units of the Armed Forces of Ukraine violated the ceasefire in the area of ​​responsibility of the LPR twice a day. This was reported by the representation of the Republic in the Joint Center for Control and Coordination of the Ceasefire Regime (JCCC).
"The areas of Zolote-5 and the urban-type settlement Donetsk were subjected to shelling. The fire was fired from an LNG-9 anti-tank grenade launcher, AGS-17 automatic heavy grenade launchers and small arms, "the message says.
---
---
In the Donbass, in the area of ​​the so-called Joint Forces Operation (JF), six violations of the ceasefire were recorded over the past day. There are no combat losses among the Ukrainian defenders, according to the morning report of the OOS headquarters.
"So, not far from Avdiivka, the enemy opened fire from 120-caliber mortars, and near the village of Yuzhnoye, from anti-tank missile systems, anti-aircraft guns, grenade launchers of various systems and large-caliber machine guns. Near Mayorsk, enemy units fired from 82-caliber mortars, heavy machine guns and small arms. Not far from Sand, large-caliber machine guns, under-barrel and heavy anti-tank grenade launchers were used. And at Zaitsevo, the enemy carried out remote mining from hand-held anti-tank grenade launchers with POM-2 mines, "reads the summary of the Ukrainian Defense Ministry.
Original Source (Russian)
Обстановка на линии фронта за сутки: версии сторон