Syria rejects foreign boots on ground to fight ISIL
The Syrian foreign minister says his country will reject the deployment of foreign troops on its soil for battling the ISIL Takfiri militants.
Walid al-Muallem said on Monday that Damascus does not need and will not tolerate any presence of foreign ground troops on its territory.
"We will not permit anyone to violate our national sovereignty by intervening to fight ISIL," Muallem said during a joint press conference with his Belarusian counterpart, Vladimir Makei, in Damascus.
Muallem added that Syrian troops are "honorably" undertaking the task of fighting the Takfiris.
Press reports over the past few days suggest that the US-led coalition against ISIL, which has been carrying out airstrikes against the terrorist group, may decide to intensify its fight against the group.
This comes as ISIL released a video last week purportedly showing the brutal killing of the Jordanian pilot, Maaz al-Kassasbeh. The move led to harsh statements by various governments, with the most notable of them Jordan which, according to some reports, is mulling a ground operation against ISIL in Iraq and Syria.
Muallem said Jordan had failed to respond to Syria's recent request for coordination in the campaign against ISIL.
"So far, there is no coordination between Syria and Jordan in the fight against terrorism," he said.
Jordan is a member of the international coalition against ISIL. However, Damascus has been insisting that Amman has been one of the main supporters of the Takfiri groups fighting against the government of Syrian President Bashar al-Assad.
PressTV
http://www.strategic-culture.org/news/2015/02/09/syria-rejects-foreign-boots-on-ground-to-fight-isil.html
~~~~~~~~~~~~~~~~~~~~~~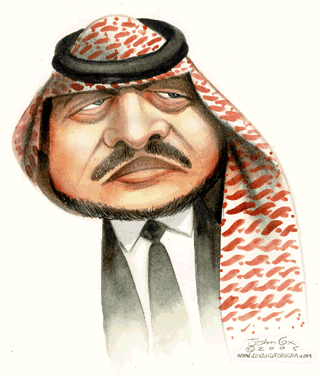 When one of your air force pilots is brutally burned to death by savages you helped to train and foster, it's hard to keep a straight face when consoling the family of the poor aviator. But, that is exactly what this Lilliputian monarch is all about. He was even seen with the pilot's father, managing to produce a tear of anguish as he bussed the old man in the traditional Arab manner on both grizzled cheeks. Most touching. Some witnesses swore they could detect a subtle snicker as the king moved away from the grieving parent.
From the day the unrest in Der'ah started, 'Abdullah II was training agents provocateurs on Jordanian soil with the assistance of Robert Ford whose own plan to rock Syria was already in full blossom. This king, a toad-like blunt instrument of the same Western World and World Zionism which insure his longevity on the throne of a country so ineptly cobbled together by the British as a consolation prize to the cuckolded Hashemites that it reeks of Chad, Somalia or Mali, makes no secret of the fact he is ready to hire on as a chamberlain for any visiting English fusspot. He chastises the Zionists for anti-Islamic acts in Jerusalem, but, arrests anyone who actually goes out into the street to enunciate exactly the same grievance. He smiles benignly at the cameras, while – all the while – the screams of detainees at the General Security HQ outside Amman infuse the air with hair-raising horror, no different than those same sounds his father enjoyed so much during the days of Muhammad Rasool Kaylaani.
He has instructed his representatives to deny any role for Jordan in assisting the terrorists. In doing this, he has entrapped his own ministers in a web-work of deceit so convoluted it smacks of an Ealing Comedy. How many times have we delighted in seeing and listening to Jordanian politicians speak into the camera to say that "Jordan is neutral" or "Jordan will not play a role in the crisis in Syria". But the best is: "Jordan cherishes the brotherly relations between our two countries". It's camp at its best. Tasteless, yet, pungent with the aroma of sewer humor. Some of us have suffered left inguinal hernias as we laughed ourselves silly listening to these Jordanians denying any relationship to the terrorists who are murdering innocent Syrians on a daily basis with so many coming in from Al-Mafraq, Al-Ramtha or Al-Zarqaa`.
Read in Full Here:
http://www.syrianperspective.com/2015/02/news-alert-jordanian-wins-2014-tony-blair-liar-of-the-year-award.html